Candy Cane Oreo Cookies Bars
Ingredients:
For the Cookie Base:
1 cup unsalted butter, softened
1 cup granulated sugar
1/2 cup light brown sugar
1/2 tsp kosher salt
2 eggs
1 tsp vanilla extract
2 cup all purpose flour
1/2 cup dark chocolate unsweetened cocoa powder
1 tsp baking soda
15 Candy Cane Oreos, crushed
1 1/2 cup red and green chocolate chip morsels (or use semi sweet)
For the Topping:
1 can (14oz) sweetened condensed milk
2 Tbsp unsalted butter
12 oz Green & Black's White Chocolate bars (4oz each bar)
12 peppermint candy canes, crushed
Instructions:
Beat butter and sugars until creamy, using a mixer. Add in salt, eggs and vanilla. Slowly add flour, baking soda and cocoa, until combined completely. Fold in crushed Oreos and chocolate morsels (batter will be thick).
Press into a parchment paper lined 15x10x1 baking sheet. Bake in a 375 degree oven for 15- 20 minutes, until soft in center and cooked on outside (adjust according to own oven). Remove from oven (will set while cooling).
While baking, heat condensed milk and butter in a small saucepan on medium heat. Stirring constantly with a whisk, add white chocolate to warm milk mixture. Remove from heat and stir until smooth (about 2 minutes).
Pour over cooked cookie bars and sprinkle immediately with crushed candy canes. Allow to set (about 30 minutes). Cut and enjoy!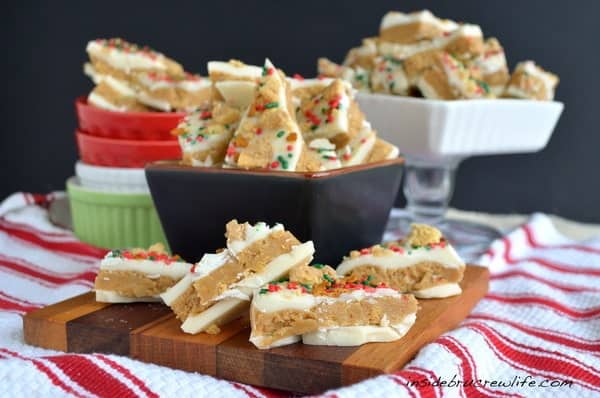 White Chocolate Bark Layered with Gingerbread Oreo Truffle Mixture
Ingredients:
1 pkg. Gingerbread Oreos
6 oz. cream cheese softened
1 package white Candiquik, chopped (16 oz.)
4 extra Gingerbread Oreos
sprinkles
Instructions:
Place the Candiquik in a saucepan over low heat. Stir until melted. Pour half of the Candiquik into a wax paper lined 9x13 pan. Place in refrigerator. Keep the other half warm.
Crush the whole package of Oreos. Mix in the cream cheese. Spread on top of the chilled Candiquik. Pour the other half of the Candiquik on top and spread out. Top with sprinkles and extra Oreo chunks. Refrigerate to set. Chop into random small pieces. Keep refrigerated.
Holiday Funfetti Shortbread Cookies Recipe
Ingredients:
1 cup (2 sticks) unsalted butter, softened
3/4 cup confectioners' sugar
1 teaspoon vanilla extract
1 1/2 teaspoons coarse salt
2 1/3 cups all-purpose flour
1/4 cup red and green sprinkles (jimmies)
1/3 cup red and green sugar for decorating
Directions:
In a stand mixer (paddle attachment), combine butter, confectioners sugar, vanilla and salt, blend until smooth. Add flour gradually and mix on low until just combined. Stir in jimmies using a spoon or your hands. Form dough into a 12- to 14-inch-long round log, wrap in plastic wrap and freeze until firm: at least 30 minutes.
Preheat oven to 350 degrees F. Cut dough into 1/4 inch thick slices. Roll edges in red and green sugar. Bake on parchment paper lined baking sheets for 15 to 18 minutes or until cookies are light golden brown around the edges. Cool for a few minutes on trays before removing cookies to wire racks to cool completely.
NOTES:
The best part about these cookies is that you can make them in advance, throw the log of dough in the freezer and slice and bake them when you need them.
Frosted Soft Sugar Cookies
Ingredients:
FOR THE COOKIES:
1 1/2 cups sugar
1/2 cup (1 stick) unsalted butter, softened
2 eggs
1 teaspoon vanilla
1/2 cup sour cream
1/4 cup cream cheese
3/4 teaspoon baking soda
1/2 teaspoon baking powder
3/4 teaspoon salt
4 1/3 cups all-purpose flour, more for dusting
FOR THE FROSTING:
1/2 cup (1 stick) butter, softened
1/2 teaspoon vanilla
2 cups powdered sugar
3 tablespoons heavy cream
rainbow sprinkles, optional
Instructions:
1. In your stand mixer, cream together sugar and butter. With the mixer running, add eggs, vanilla, sour cream, and cream cheese until well combined. Add baking soda, baking powder and salt. Mix for one minute. Finally, add the flour (one cup at-a-time) and mix until dough forms. Dough should be slightly sticky.
2. Wrap the dough in a piece of clear wrap and refrigerate for at least 4 hours or overnight.
3. Preheat your oven to 425 degrees F and line a baking sheet with parchment paper.
4. Cut your dough in half and return second half to the fridge. Flour your work surface and place dough half on top. Lightly flour the surface of the dough and start rolling it out to 1/4-inch thickness. With a round cookie cutter, cut out shapes and transfer onto your baking sheet, about 2 inches apart. Place in the oven and bake for 8 minutes or until the sides are slightly browned.
Once the cookies are done baking, transfer them to a cooling rack and let them cool completely.
Repeat with the rest of the dough and dough scraps.
5. While the cookies finish cooling, combine the butter and vanilla for the frosting. Add the powdered sugar and incorporate. Finally, add the heavy cream, one tablespoon at-a-time and stir until combined. Frosting should be somewhat firm, but still a bit runny. Apply frosting to cooled cookies and decorate. Frosting will harden after 30 minutes.
Notes
Frosted Soft Sugar Cookies will keep up to 5 days in an airtight container or 2 months in the freezer.
Use these 4 links to get all these recipes and more: