Southern Roast Turkey with Bourbon Peach Glaze
Ingredients:
1 15-Pound WHOLE TURKEY fresh or frozen (thawed)
1-1/2 Teaspoon salt
1/2 Teaspoon freshly ground black pepper
1/2 Cup peach preserves
2 Tablespoons bourbon
2 Teaspoons Angostura bitters
5 pickled peaches for garnish
Directions:
Remove giblets and neck from turkey; reserve for gravy. Rinse turkey with cold running water and drain well. Blot dry with paper towels.
Sprinkle salt and pepper in the cavities of the bird.
Fold neck skin and fasten to the back with skewers. Fold the wings under the back of the turkey. Return legs to tucked position.
Place turkey, breast side up, on a rack in a large shallow (no more than 2-1/2" deep) roasting pan. Insert an oven-safe thermometer into thickest part of the thigh, being careful it does not touch the bone.
Roast turkey in a preheated 325 degree F. oven about 3-3/4 hours. Baste with the pan juices.
Meanwhile, in a small saucepan, over low heat, combine preserves, bourbon and bitters. Cook until preserves are melted.
During the last 30 minutes of roasting time, baste the bird with the bourbon peach glaze. Continue to roast until the thermometer registers 180 degrees F. in the thigh, or 170 degrees F. in the breast.
Remove turkey from the oven and allow the bird to rest for 15-20 minutes before carving.
Place on a warm large platter and garnish with pickled peaches. Note: Provides 22 servings at 6 ounces per portion.
Cranberry Salad
Ingredients:
2 cups fresh or frozen cranberries
1 cup water
1 cup Equal Spoonful or Granulated*
1 four-serving size cranberry or cherry sugar-free gelatin
1 cup boiling water
1 cup diced celery
1 can (7-1/4 ounces) crushed pineapple in juice, undrained
1/2 cup chopped walnuts
Directions:
Bring cranberries and water to a boil. Remove from heat when cranberries have popped open. Stir in Equal. Set aside to cool.
Dissolve gelatin in 1 cup boiling water. Add cranberry sauce; mix thoroughly. Add celery, pineapple with juice and walnuts. Pour into a mold or bowl. Refrigerate several hours or overnight until firm.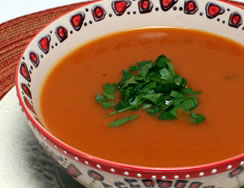 Pumpkin Soup
Ingredients:
4 cups low-sodium vegetable broth, divided
4 cups pumpkin purée (canned or fresh) (butternut squash may be substituted)
1 cup finely chopped onion
1 clove garlic
1 tsp. fresh thyme, chopped
Salt and freshly ground pepper to taste
2 Tbsp. light whipping cream (optional)
1 tsp. fresh parsley, chopped
Nutmeg (optional)
Directions:
In large pot over medium-high heat add 3 cups broth, pumpkin, onion, garlic, thyme, salt and pepper. Bring to boil. Reduce to low and simmer uncovered, about 30 minutes.
Puree mixture until smooth, in small batches, using blender or food processor. Return to pot. Bring to boil. Reduce heat to low and simmer uncovered for another 30 minutes. Add remaining broth as desired. (Optional, stir in cream.)
Pour into bowls. Garnish with parsley (or sprinkle of nutmeg) and serve.
Apple Pie
Ingredients:
Pastry for double-crust 9-inch pie
3 tablespoons cornstarch
1 cup Equal® Spoonful or Granulated*
3/4 teaspoon ground cinnamon
1/4 teaspoon ground nutmeg
1/4 teaspoon salt
8 cups peeled, cored, sliced Granny Smith or other baking apples (about 8 medium)
* May substitute 24 packets Equal sweetener
Directions:
Roll 1/2 the pastry on floured surface into circle 1 inch larger than inverted 9-inch pie plate. Ease pastry into plate.
Combine cornstarch, Equal®, cinnamon, nutmeg and salt. Sprinkle over apples in large bowl and toss to coat. Arrange apples in pie crust.
Roll remaining pastry into circle large enough to fit top of pie. Place over apples. Seal edges, trim and flute. Cut a few slits in top of pastry to allow steam to escape. Bake in preheated 400° F oven 40 to 50 minutes or until crust is golden and apples are tender.
Cool on wire rack. Serve warm or at room temperature.