Servings:2 dozen clams
Ingredients:
coarse rock salt, for baking
2 dozen medium littleneck clams, shucked with half-shells reserved
1 tablespoon aji amarillo or other chili paste
2-3 tablespoons Pisco liqueur
3/4 teaspoon roasted garlic, puréed
1/4 cup panko or plain breadcrumbs
1/4 cup freshly grated Parmigiano-Reggiano
3 tablespoons unsalted butter, melted
salt, to tasteto garnish
chives, thinly sliced
Directions:
Preheat the broiler to high and place the rack in your oven on the second highest rack.
On one large baking sheet or two small ones, make a layer of rock salt as a bed and lay the half clamshells on top of the rock salt in a single layer. Place one clam inside each half shell. Place 1/8 teaspoon of the aji amarillo paste and a few drops of Pisco liqueur on each clam.
In a medium bowl, mix together the roasted garlic purée with the bread crumbs, Parmigiano-Reggiano and melted butter. Salt to taste.
Place 1 to 2 teaspoons of the bread crumb mixture on each clam and place clams under the broiler. Broil for 3 minutes.
Let cool slightly before serving and garnish with the thinly sliced chives. I usually gives guests a toothpick or small fork to eat these.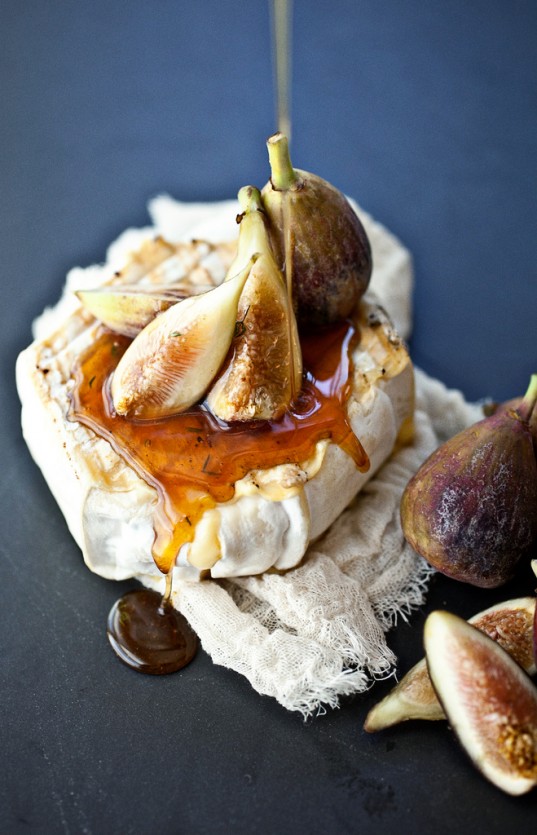 Ingredients:

1 small wheel of soft cheese such as brie or a triple cream
1/4 cup honey
a couple sprigs of thyme
fresh figs (as many as you'd like)
Directions:
In a small saucepan add the honey and thyme and heat on low. You simply want to warm the honey and infuse it with the flavour of thyme. If it starts to simmer, remove from the heat and set aside.
Preheat a grill (indoor or outdoor) until very hot. Carefully place the cheese on the grill and sear until marks appear and the inside starts to melt, about one to two minutes on each side. Using a spatula, remove the cheese from the grill and transfer to your serving platter. Half and quarter several figs and place on top of the grilled cheese. Drizzle the figs and cheese with the honey. Serve immediately with crackers and/or bread.
Yield: serves 10-12
Ingredients:

1 Pepperidge Farm® Puff Pastry Sheets (just one sheet), thawed
8oz brie cheese
1/2 cup pecans, chopped
1 cup whole berry cranberry sauce

Instructions:
Thaw Pepperidge Farm® Puff Pastry Sheet according to package directions.
Once thawed, place brie wheel in center of puff pastry. Top with cranberry sauce and pecans.
Using a small leaf shaped cookie cutter, cut two leaves out of the corners of the puff pastry. Bring up all four corners of pastry, pinching seams at the top. Bring up loops on sides, pinching the seams at the top. Place two leaf cut outs on top of seams.
Bake pastry on a parchment paper lined baking sheet in a preheated 400 degree oven for about 18-20 minutes, until pastry is golden and flaky.
Remove and enjoy immediately!
Ingredients:

1 sugar pumpkin, or other sweet variety (not a carving pumpkin), about 5 pounds
Sea salt
Freshly ground black pepper
1 tablespoon olive oil
¼ pound mild Italian pork sausage
4 ounces elbow macaroni
5 ounces Fontina, cut into ¼-inch cubes
2 ounces Gruyère, cut into ¼-inch cubes
3 scallions, diced
1 teaspoon chopped fresh rosemary
1 teaspoon chopped fresh thyme
1 teaspoon chopped fresh sage
1 cup heavy cream

Instructions:
Preheat the oven to 350°F/178°C. Cut a circle from the top of the pumpkin at a 45-degree angle, the way you would cut open a pumpkin to make a jack-o'-lantern, and set aside. Scoop out the seeds and strings as best you can. Generously salt and pepper the inside of the pumpkin, pop the top back on it, place it on a rimmed baking dish (since the pumpkin may leak or weep a bit), and bake for 45 minutes.
Meanwhile, heat the olive oil in a sauté pan over medium heat. If the sausages are in their casings, remove the meat and discard the casings. Crumble the sausage meat into small chunks and cook until lightly browned. Remove the sausage from the pan with a slotted spoon and set aside to cool. Discard the drippings, or save for gravy or what have you.
Also while the pumpkin bakes, cook the pasta in a large pot of salted boiling water until al dente. Drain through a colander and rinse with cool water to stop the cooking process.
In a bowl, toss together the Fontina, Gruyère, sausage, pasta, scallions, and herbs. Once the pumpkin is done baking, take it out of the oven and fill it with the macaroni and cheese. Pour the cream over the filling. Place the top back on the pumpkin and bake for 1 hour, taking the top off for the last 15 minutes so the cheese on top of the filling can properly brown. If the top cream still seems a bit too wobbly and liquid, give it another 10 minutes in the oven. The cream may bubble over a bit, which is fine. If the pumpkin splits while baking, as occasionally happens, be thankful you set it in a rimmed baking dish and continue to bake as normal.
Allow the pumpkin to rest for 10 minutes before serving. Be careful moving the dish, as the pumpkin may be fragile. You can serve this dish two ways: Cut it into sections and serve them, or just scoop out the insides with scrapings of the pumpkin flesh for each serving. Either way is just dandy. Salt and pepper to taste.
Follow the links below each picture for the original recipes.