Whiskey Burgers
Ingredients:
2/3 cup finely chopped scallions, plus 1/3 cup
1/3 cup whiskey, plus 2 tbs
1/4 dry bread crumbs
2 tbs Worcestershire sauce, plus 1 1/2 teas
2 tbs butter, melted
4 garlic cloves, minced
1/2 teas seasoning salt
1/4 teas crushed red pepper
1/4 teas freshly ground black pepper
1 lbs ground beef
1 lbs ground pork
2 cups shredded cheddar cheese
Lettuce, onion, tomato for topping
Hamburger buns
1/2 cup barbecue sauce
Preparation:
In a large bowl combine 2/3 cup green onion, 1/3 cup whiskey, bread crumbs, 2 tbs Worcestershire, melted butter, 2 minced garlic cloves, seasoning salt, red pepper flakes, and ground pepper in a bowl with the ground beef and pork. Shake into 16 1/2″ thick patties.
Make the cheddar-whiskey filling: In a food processor combine the cheddar cheese, 1/3 cup green onions, 2 tbs whiskey, 1 1/2 teas Worcestershire, and 2 minced garlic cloves. Pulse until nearly smooth.
Place 1 tbs of the cheddar filling in the center of 8 patties. Top with the remaining patties and pinch together the sides.
Preheat grill to medium heat. Place patties on grill, cover and cook for 10 minutes. Flip each patty, cover and cook an additional 5 minutes. Open grill and top each burger with the remaining cheese mixture (I just used slices), cover and continue to cook for 5 minutes more.
Spread barbecue sauce over buns, layer on a burger and desired toppings and serve.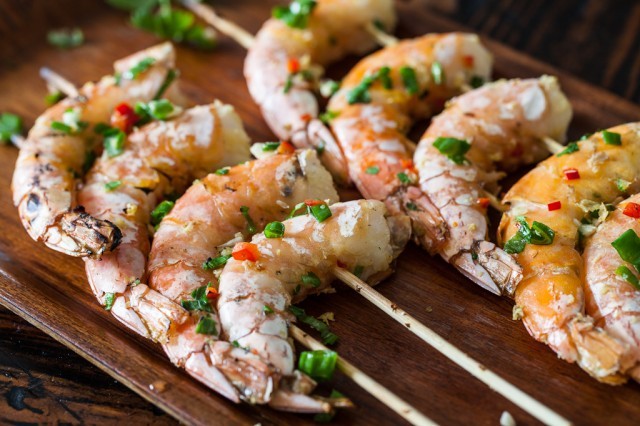 Grilled Shrimp Chinese Style
Ingredients:
1 pound shrimp
1 stalk green onion, green part only, chopped
2 cloves garlic, very finely minced
2 teaspoons grated fresh ginger
1 teaspoon finely minced chile pepper (or to your taste)
1 teaspoon sea or kosher salt
1 teaspoon cooking oil
bamboo skewers, soaked in water 30 minutes
Directions:
Preheat grill to high heat. In a large bowl, add all ingredients and mix thoroughly to coat the shrimp. At this point, you can refrigerate for up to overnight or just proceed to next step.
Skewer the shrimp - for jumbo shrimp, you may want to use two bamboo skewers for each (see photo or video). Grill 2-4 minutes each side (depends on how big the shrimp are). Serve immediately.
To broil, set the oven rack to 8" below heating unit. Broil 4 minutes per side or until cooked through.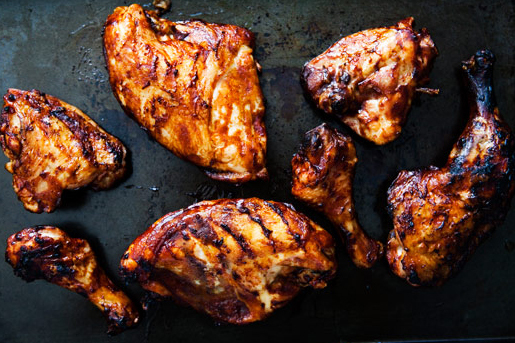 Barbecued Chicken On The Grill
Ingredients:
4 pounds of your favorite chicken parts (legs, thighs, wings, breasts), skin-on
Salt
Vegetable oil
1 cup barbecue sauce, store-bought or home made
Method:
1 Coat the chicken pieces with vegetable oil and sprinkle salt over them on all sides. Prepare your grill for high, direct heat. If you are using charcoal or wood, make sure there is a cool side to the grill where there are fewer coals.
2 Lay the chicken pieces skin side down on the hottest side of the grill in order to sear the skin side well. Grill for 5-10 minutes, depending on how hot the grill is (you do not want the chicken to burn). Once you have a good sear on one side, move the chicken pieces to the cooler side of the grill, or, if you are using a gas grill, lower the heat to medium low. Cover the grill and cook undisturbed for 20-30 minutes.
3 Turn the chicken pieces over and baste them with with your favorite barbecue sauce. Cover the grill again and allow to cook for another 30 minutes. Repeat, turning the chicken pieces over, basting them with sauce, covering, and cooking for another 30 minutes.
4 By now the chicken should be cooked through. You can check with a meat thermometer inserted into the thickest part of the chicken piece. Look for 165°F for breasts and 170°F for thighs. Or insert the tip of a knife into the middle of the thickest piece, the juices should run clear. If the chicken isn't done, turn the pieces over and continue to cook at a low temperature. If you want can finish with a sear on the hot side of the grill. To do this, put the pieces, skin side down, on the hot side of the grill. Allow them to sear and blacken slightly for a minute or two.
5 Paint with more barbecue sauce and serve.
Yield: Serves 4-6.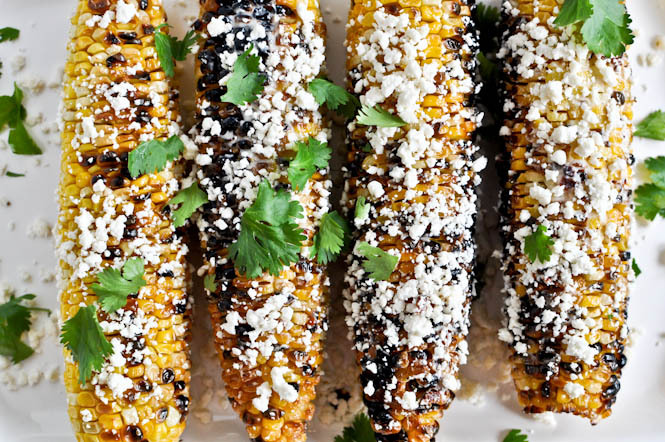 Grilled Corn with Bacon Butter and Cotija Cheese
Ingredients:
6 ears of corn
1 tablespoon olive oil
3 tablespoons butter, softened
2 slices bacon, fried and crumbled (very small crumbles!)
3-4 ounces cotija cheese, crumbled
fresh cilantro for garnish
black pepper
Preheat your grill on the highest setting. Shuck corn ears and brush each with olive oil and sprinkle with pepper. Wrap each in a square of aluminum foil – just so there is one layer cover the corn. Grill for about 5 minutes each "side" – rotating corn 4-5 times during grilling. While grilling corn, combine softened butter with crumbled bacon. Crumble cotija cheese on a large plate.
Once corn is finished, let sit for about 5 minutes to cool a bit before serving. The corn will still be very hot. Serve with a brush for the bacon butter, the plate of cotija to roll the corn in, and a bunch of fresh cilantro for garnish.
Note: there are so many ways to grill corn and this is what we have found to work best for us – feel free to grill your corn another way if you'd like. Also, if you can't find cotija cheese I'm sure you could sub feta or blue – something that crumbles.
Get 100 recipes for Summer
here